Today I'm excited to participate in a spring home tour hosted by Cindy from Cloches & Lavender and Terrie from Decorate & More with Tip! This is such a fun way to get a little peek inside each others' homes and find fresh inspiration. If you've found your way here from Chloe's lovely spring tablescape tour, welcome to The House on Silverado! I can't wait to show you around.
Spring Home Tour
Spring Centerpieces in the Kitchen
I love having a seasonal centerpiece in the middle of my kitchen island. My husband and I both like to cook and entertain, so we spend a lot of time in this part of the house. I always place my centerpiece on some kind of tray or basket, so it can easily be picked up and moved if we need the space for holiday baking or serving a crowd. Right now, I'm in love with this large round tray from Target.
Since my kitchen is decorated in all neutral colors, these displays let me add various pops of color as the seasons change.
You can see how I made the "vintage" seed packets for this pretty spring centerpiece HERE.
With a few simple changes, I turned my Spring Centerpiece into a Simple Easter Centerpiece.
I love having fresh flowers for my kitchen island, like the real pink tulips above, and the mixed white bouquet below. But, when I don't have fresh on hand, I have a variety of faux florals that I mix and match. Faux flowers have come a long way and many look so real!
I used an assortment of faux florals and greenery, plus speckled eggs for my Easter Dough Bowl.
This centerpiece has spent some time on my dining table, and also on the countertop of my baking area.
I also have this little antique corner cabinet in my kitchen that I saved from my parents' house and gave it a makeover. I dressed it up with white china and sweet little bunny platter for Easter.
Spring in the Entryway and Great Room
This Spring Table Vignette brightens up a pretty side table in our great room.
A few little nature-y elements and white faux tulips add a fresh spring feel that can remain here until I'm ready to bring out some more summery decor.
This is my favorite place to sit in the mornings and sip my coffee, anxiously awaiting the days when it's warm enough for morning coffee to be enjoyed outside on the porch swing. ☀️☕️
Fresh morning sunlight is the best, isn't it? The fur-trimmed knit blanket and pillow are still necessary for a bit longer to combat the chilly spring mornings, but soon they will be replaced with something lighter.
The Birdhouse Spring Centerpiece I made for this month's Pinterest Challenge looks beautiful on both my kitchen island and fireplace mantel.
Currently, it's hanging out here, above my built-in shelves next to the fireplace. Right now, the shelves are displaying a mixture of my vintage treasures and newer finds for spring and Easter.
Sneak Peek: Can you see that little bit of beadboard peeking out from behind that shelves? That is our latest DIY project, and I can't wait to tell you about it in a future post!
In front of the fireplace is another fun place for seasonal displays.
This vintage child's chair I inherited from my mom, along with the antique stoneware bowl. The vintage bunny is a recent antique shopping find.
I mixed it all together with several vintage books covered in brown paper, the "vintage" seed packets that I made, and some Easter decor from my stash.
Now, you're in for a treat, because next up on the tour is CoCo from The Crowned Goat. I'm telling you guys, CoCo's home is swoon-worthy. I never fail to be enthralled by all her lovely creations.
I hope you'll pop over and take a look, as well as at all the other beautiful spring homes linked below.
Let's stay in touch!
I invite you to subscribe to The House on Silverado to get inspiration delivered right to your inbox!
Facebook —– Instagram —– Pinterest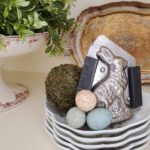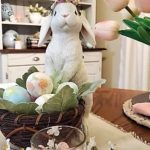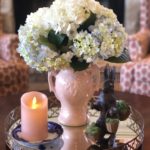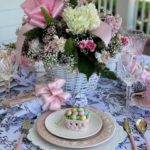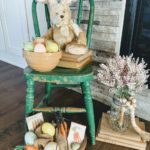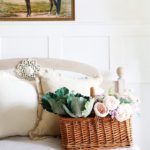 This post contains affiliate links.