I love having access to my own home-grown herbs for cooking. In past years, I always planted them in my vegetable garden. However, at this new property, the garden is a loooong way away from the kitchen! That's not ideal when I need some herbs for cooking , so I came up with this DIY farmhouse inspired herb garden box.
BONUS: Some of my favorite blogging friends are also sharing their great gardening ideas today! When you get to the bottom, be sure to visit them and see what wonderful spring projects they have for you!
The Container for Your DIY Farmhouse Inpsired Herb Garden Box
I didn't want to invest a lot of money, since eventually we hope to get the garden up and running, so I perused the shed and garage to see what kind of container I could find, and came up this old planter box to use for my DIY farmhouse inspired herb garden box.
I made this planter box more than 20 years ago, from leftover wood after we built a deck on our house (three houses ago!). It was so simple, I'm telling you–anyone can do it. Straight cuts and some screws.
The screws had weathered and showed some signs of rust after all these years–perfect for that farmhouse look!
These legs came off an old ottoman that was headed for the trash, and at the last minute I had the foresight to take those off and save them. They were perfect for this project! I just drilled some holes in the bottom and twisted them right on there. The screws were already attached to the legs!
As you can see, this box had some "lovely" sunflowers stenciled on the side of it. While it might have been the in style in the early 90s, it certainly isn't the look I was going for now. So I just grabbed some sandpaper and went to work on removing most of it.
Since I didn't want to invest much money in this, I scrounged around in the garage for paint. I couldn't find any white paint in a can, but did find these two old cans of spray paint from a past project.
They are from Rustoleum's "Chalked" paint line. I lightly sprayed the planter box with the Linen White color to cover up the rest of the sun flowers that were still visible. I sprayed very, very lightly, a little at a time, because I didn't want to cover up all the weathered wood and chippy white paint from years ago–I just wanted to cover the flowers. The legs got a bit of a spray too, because the paint was almost all worn away there.
Paint the Lettering on the Herb Box
Next, I started thinking about the easiest way to get some lettering on the side. I found a font I liked on my word processor, enlarged it to the size that fit the side of the box well, and printed it out on white computer paper. At first, I considered cutting them out, like a make-shift stencil, but quickly decided that would be difficult and probably wouldn't work well, anyway.
I moved on to the idea of tracing them… but didn't have any tracing paper. Then it occurred to me! Newspaper. It always rubs off on my hands, so why not wood? I grabbed a piece of newspaper from the recycling bin, laid it out on the side of the planter box, and placed my printed font on top. Then, with a ball point pin and a steady pressure, I simply traced all around the edges of the font. On my white painted box, the newsprint transferred off nicely, leaving me clear edges to paint in later. It was free and so easy. I will definitely be using this trick again.
I used a black sharpie to go around the faint newsprint outline and darken it up. Then, since all I had was spray paint, I sprayed some into a disposable bowl and used a children's narrow paint brush to fill in the letters. I didn't worry about it being too perfect, since I was going for a weathered farmhouse look anyway.
After the lettering was dry, I lightly went over it with my sand paper, to give the lettering a weathered look, too. Then, I was ready for the plants!
Choose the Herbs
I selected a variety of herbs that my family likes. Basil is my absolute favorite–it just doesn't feel like summer without fresh basil for pizzas on the grill, and caprese salad with homegrown tomatoes. I love turning it into pesto too. I also planted mint, because we discovered mojitos on a Mexican vacation a couple of years ago, and having mint on hand to whip up a refreshing summer cocktail is the best!
Wine Cork Plant Markers
Once the plants were all situated, I decided to create some labels to identify each herb. We like our wine around here, so I easily gathered 6 corks from my stash and used a sharpie to write the names on them. Then I used an awl to deepen the hole left by the corkscrew, and slipped some wooden skewers into the hole. Done. Couldn't have been easier, and it looks super cute.
DIY Farmhouse Inspired Herb Garden Box
I moved the finished planter out onto our screen porch for now. The dreary cold, rain and wind just won't quit around here lately, so this gives a bit of protection for now. But later I may move it outside to the open deck. Being exposed to the elements will just enhance the weathered farmhouse appeal.
Getting these herbs started makes me anxious for summer to get here. We only have a few weeks left of school, and during my summer break I love tending to my garden and flowers, cooking up fresh summer meals, and sipping cocktails on hot summer evenings…..
If you don't have a planter box around your house that you can rehab, no worries. You can make one out of scrap wood, which is really easy. Or, if that is not your thing, garage sales and Goodwill are awesome places to find something old and battered that you can customize to the way you want it.
Or, if you really want something all ready for you to just pop your herbs into, Amazon has lots of cute and reasonably prices options. I've listed some below that I like. And if you do decide to plant your own farmhouse herb box, send me a pic in the comments. I'd love to see it!

If you're interested in building an entire garden, you might enjoy my post about How to Build a Deer Proof Raised Bed Garden.
For more fun projects like this one, be sure to subscribe via email using the box at the top of this page, as well as follow on social media.
Facebook —– Instagram —– Pinterest
Next on the tour is Kim, from Farmhouse to Florida. Be sure to stop by and see her dessert herb garden ideas, too!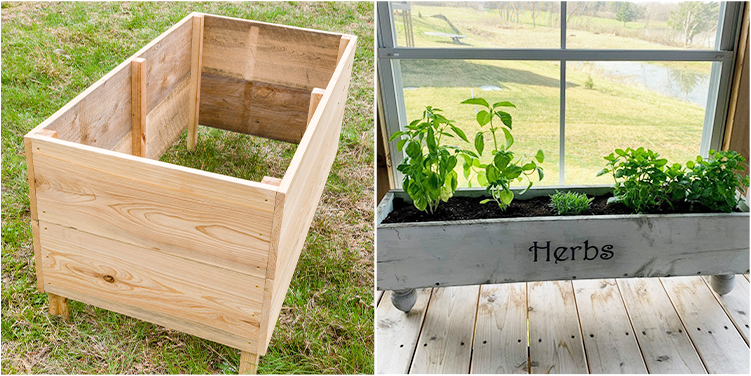 Kippi at Home // The House on Silverado
🌻 🌻 🌻 🌻 🌻 🌻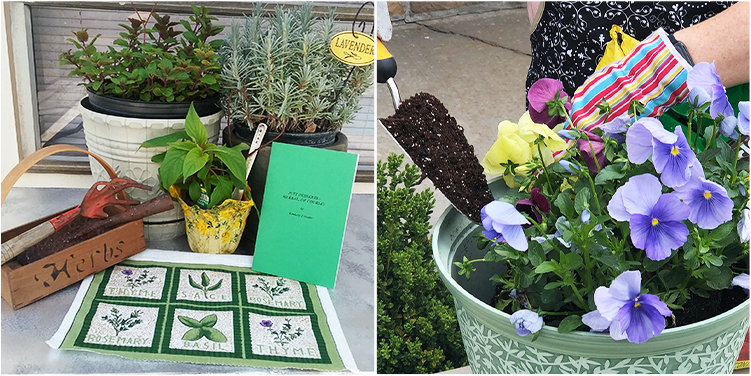 This post contains affiliate links.